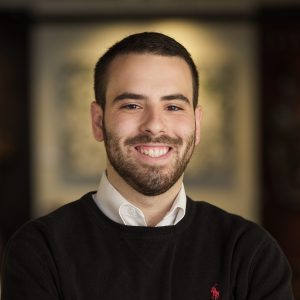 Danny Rosenberg
Copywriter
Danny Rosenberg has always wanted to be a writer, but he didn't always know which kind. Born and raised in Overland Park, Kansas, he tried his hand at being a movie critic in elementary school, but that dream died when Roger Ebert failed to respond to his Flat Stanley-style letter in third grade. He dabbled in news writing in high school, but it wasn't until he began watching Mad Men that he found his true calling as a copywriter. He hasn't looked back since, and his tenacity and quick-wit have landed him copywriting internships at Sullivan Higdon & Sink in Kansas City, Missouri, and Publicis North America in New York. The way he folds a pizza slice will never be the same.
In his brief but illustrious career, Danny has spent his time in the industry examining the dirt and grime that builds up in a roommate relationship for Swiffer, drooling over pictures of tater tots and slushies for Sonic and comparing a bad romance to a dry cleaning experience for Tide Dry Cleaners. Working on Citibank, he learned that the only thing harder than playing golf is writing about it.
When he's not trying to go back in time to stop the JFK assassination, Danny loves nothing more than a night in watching movies with friends. His favorites, in no order, are Superbad, Boyhood and Little Miss Sunshine. His biggest creative influences are Judd Apatow and Larry David, and he hopes to become a screenwriter after a storied career as an ad man. His Patronus is a beagle.