Elese Smith
Account Manager
Leadership, strength, passion and an avid concertgoer? Elese Smith really can do it all. Hailing from Jerseyville, (no, not New Jersey) Illinois, Elese is a sponge for learning and a natural-born leader for the present and years to come. As the Account Manager for Team Tandem, Elese can handle anything that comes her way while also being a guiding figure for her peers.
Elese has developed a wide range of management experience within her leadership role as the president of AAF Mizzou, the University of Missouri's chapter of the American Advertising Federation. Being passionate about her work is apparent through Elese's previous internship with Elasticity, working within the media buying and planning department of the company, as well as her experience as a photographer, strategist and account manager for Matchbook Marketing Agency. On top of everything else, Elese is an active member of the MU Honors College, an ambassador for the Missouri School of Journalism and a member of Pi Beta Phi. Elese finds comfort and pride in being busy with at least three ongoing to-do lists at a time.
When Elese is not leading meetings for MOJO Ad or AAF Mizzou, she spends her time volunteering with the Champions are Readers program here in Columbia. Elese's evident passion for helping those around her is apparent through her work inside and outside of the classroom. Elese finds peace and enjoyment in more leisurely experiences, such as listening to music and going to concerts. Attending over 40 shows in her lifetime, Elese's all-time favorite concerts have been Pinegrove, Taylor Swift and The 1975. Elese hopes to attend more concerts when she's not busy being Team Tandem's Account Manager, of course.
Jackson Estwanick
Qualitative Strategist
Jackson Estwanick is a jack of all trades, literally! From speaking German to developing qualitative insights, Jackson brings something new and entertaining every day to our team as the Qualitative Strategist. From Ballwin, Missouri, Jackson has spent his time at Mizzou developing a wide variety of skills to fit his many aspirations.
In his career thus far, Jackson has worked in an assortment of roles, developing a diverse set of research and creative skills. Jackson currently works for Veterans United under their search engine optimization team where he creates and updates content for a variety of sites. Previously, Jackson worked as the marketing director for the MU Campus Activities Programming Board, where he advertised events to Mizzou's population of over 30,000 students as well as at MU Student Affairs Marketing and Communications as a photographer and videographer, helping grow and hone his storytelling skills. Through his experiences at Mizzou, Jackson has grown a keen sense of focus and precision within his work, which is essential as a member of the qualitative and quantitative research duo of Team Tandem.
As a double major, Jackson spends his time developing a variety of knowledge in both German and Strategic Communication. Jackson's plan after college is to work in Germany and combine his love of research, creativity and of course German! In fact, Jackson spent a month in Germany this last summer and enjoyed nightly runs in the luscious green spaces of Leipzig, which in his opinion, was the best way to learn the lay of the land in a new country.
Danielle Laue
PR Account Manager (Strategy)
Danielle Laue, our Public Relations Account Manager (Strategy), is the queen of all things fashion and trends, all while staying on strategy, of course. Hauling from Lisle, Illinois, a suburb of Chicago, Danielle uses her ambition, creativity and ideas to take her work to the next level.
This summer, Danielle had the opportunity to work as a creative marketing intern for Mike's Hard Lemonade Company. As the creative marketing intern, Danielle created content posts, assisted with photoshoots and managed influencer relations. Working for clients like White Claw, Mike's Hard Lemonade, Cayman Jack and MXD, Danielle crafted her creativity in a challenging, yet fun, manner. Additionally, Danielle has served as the social media manager of the Textile and Apparel Management department here at Mizzou. Within this role, Danielle was able to manage the entirety of their social media channels, interview various types of professionals in the fashion and retail industry, develop reports on alumni awards and more! Danielle has also worked as a public relations intern for Rock N Rags boutique where she networked with public figures to help create partnerships and develop their social feed.
When Danielle is not busy being the social media and public relations star she is, she is actively involved in Girls on the Run and Caring for Columbia. On top of that, Danielle combines her love for both social media and Mizzou through her involvement as the Gamma Phi Beta recruitment chair and social media head. Despite all her positions and accomplishments, Danielle believes she peaked at 7 years old when she met the Jonas Brothers. Ever since, it has been Danielle's greatest flex to date.
Maggie Courtney
Quantitative Strategist
It takes a particular kind of person to be able to find, interpret and summarize data, but Team Tandem has found just that person: Maggie Courtney. From Springfield, Missouri, as our Quantitative Strategist, Maggie insightfully fields our team's research while upholding a spirit of optimism that cannot be diminished.
Maggie has gained a vast amount of experience through various roles at Mizzou and beyond. Maggie currently serves as an ambassador for the MU Honors Communications Team. Additionally, Maggie was able to blend her passions and work as a communications intern for the Raindance Film Festival in London, England. Maggie's favorite memories there, outside of the office, included seeing a Harry Styles concert at Wembley Stadium and being on the same flight as Steve Aoki. Maggie also has a love of film, having previously been involved with Columbia True/False Film Festival as an events assistant and a hospitality and guest relations assistant coordinator.
In addition to her work experiences, Maggie has been involved in countless organizations and events within the Columbia community. Maggie shows her care for the world around her by volunteering with Caring for Columbia, serving on philanthropy committees to raise money for court-appointed special advocates, participating in the Rockin' Against Multiple Sclerosis Lip Sync Competition and working as a Tiger Academy Gymnastics coach. When Maggie is not busy helping the community, going to class or working on some killer research, she is involved in a variety of campus organizations, including the MU Honors College, the Alumni Association Student Board, Kappa Alpha Theta and Omicron Delta Kappa.
Tom Jamison
Digital Strategist
Tom Jamison, our spectacular Digital Strategist from St. Charles, Missouri, is truly a whiz when it comes to data. Tom is an adaptive, strategic and analytical mind who grounds Team Tandem's crazy ideas with research to develop well-rounded work.
Tom's past experiences have helped shape him for the digital strategist role in more ways than he can name. Currently, Tom works as a content marketing intern for Veterans United where he develops tools for visitors to interact with on the company's site and uses chatbots to curate and optimize SEO-driven content. Tom has also worked as a digital marketing intern for the University of Missouri Student Affairs Department. In this role, Tom developed over 25 new web pages to update five different websites. Tom also analyzed over 20 other websites with Google Analytics to assess what was most accessible to the website visitors. While working at UltradyneUSA as a digital marketing and eCommerce intern, Tom gained even more experience with SEO, HTML, CSS, JavaScript and other website programming tools. Finally, Tom honed his more creative skills while working for the University of Missouri Student Affairs Department as a marketing and communications assistant.
When he is not scrolling on the internet for data points for Team Tandem, Tom is working on his second major in economics. Tom loves economics so much that he leads group tutoring sessions for other economics students and even served as the former president of the University of Missouri's Economics Society. When Tom needs a little break from all of the numbers, he loves to toss a frisbee with his ultimate frisbee team members!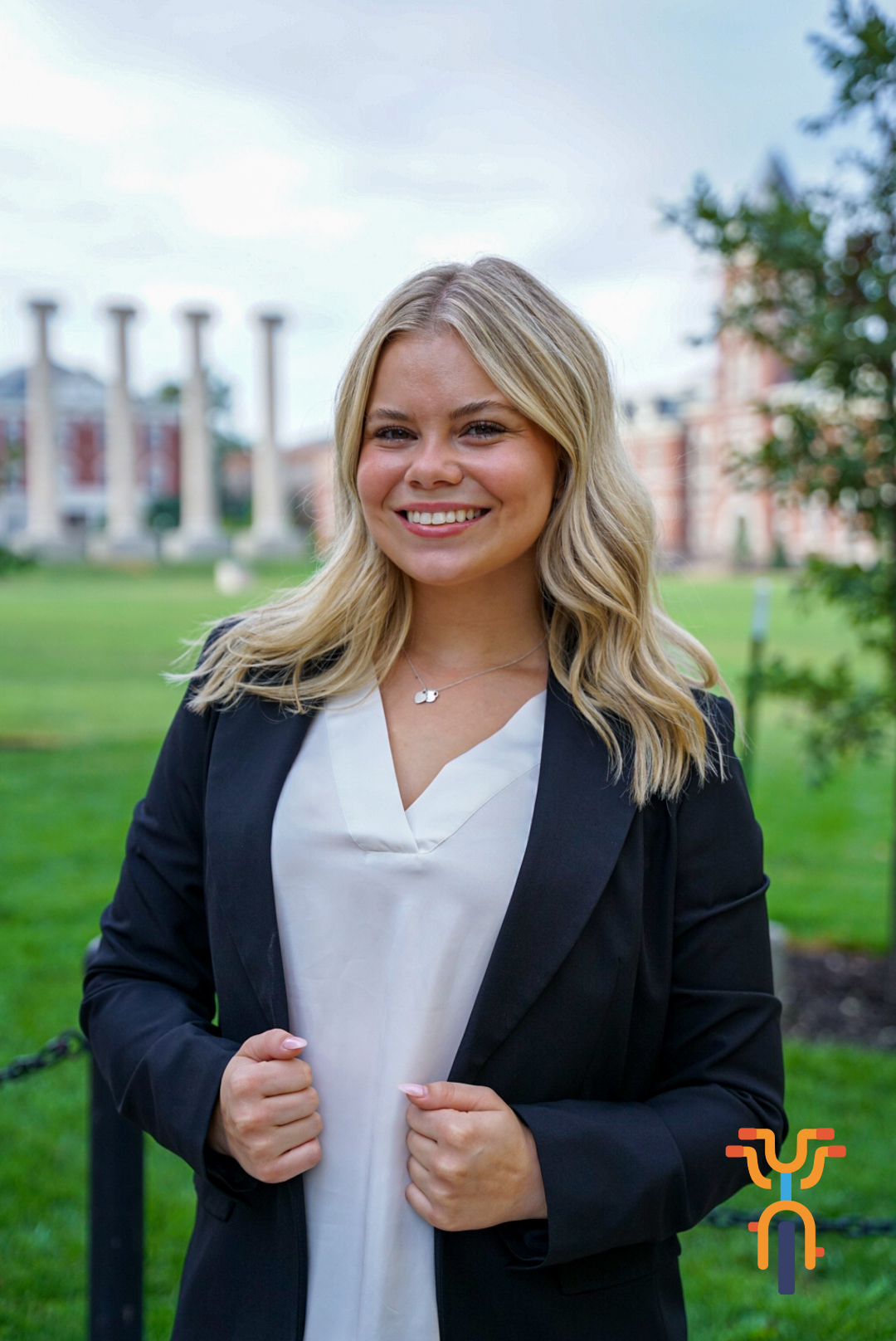 McKenzi Salyers
Media Planner
McKenzi Salyers, Team Tandem's Media Planner, is the most organized person you will ever meet! From Springfield, Missouri, McKenzi takes pride in her highly organized schedule and strives for excellence in all of her work, all while remaining flexible and team-oriented.
McKenzi has been able to work for some pretty cool places, including Anheuser-Busch InBev in Los Angeles, as a commercial sales execution intern. McKenzi worked directly with the director of the sales department and collaborated to design and execute a variety of different sales materials, promotions and proposals for Anheuser-Busch. McKenzi previously worked for Hannah McClelland Marketing as their social media intern where she specialized in design, branding, digital marketing and content creation while also planning and executing the brand's social media posts. The proof is in the planner when it comes to getting stuff done the McKenzi way!
Remember how we said McKenzi is the most organized person you will ever meet? McKenzi must stay organized to keep up with her variety of activities inside and outside of the classroom. McKenzi volunteers with the Humane Society, Girls on the Run, Caring for Columbia and the local food bank in Columbia, Missouri. In true McKenzi fashion, she is also a member of Gamma Phi Beta and even serves on the Panhellenic Executive Board as the vice president of member education. On top of all of that, McKenzi is a part of the AACE Venture Fund as the social media chairwoman and serves as the student chair of the Anti-Hazing Committee here at Mizzou. One thing you would not know from just looking at McKenzi or even her planner is her love for cats. McKenzi loves cats so much that she even has a tattoo of her childhood cat!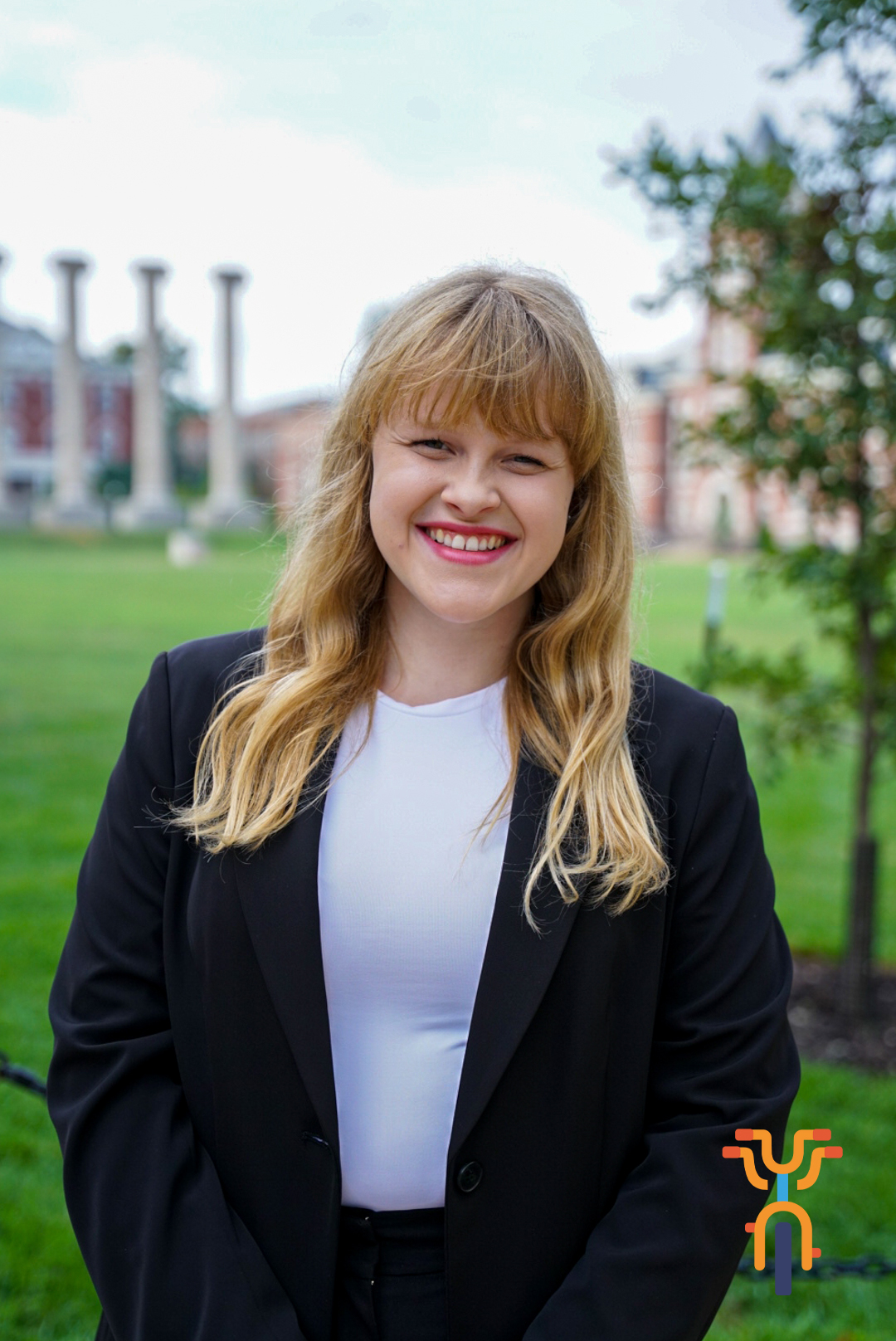 Maddy Stout
Public Relations Account Manager (Content)
Everything is in the details when it comes to our Public Relations Account Manager (Content) Maddy Stout. Through her work editing and writing pieces for Team Tandem, Maddy is a creative, detail-oriented aficionado. From Springdale, Arkansas, Maddy uses her passion for writing to develop innovative ideas in all of the work she touches.
Maddy currently works for Product Connections. Last summer, Maddy served as a digital intern, but she was recently promoted and is now a full-time assistant account executive! Maddy's job at Product Connections consists of reviewing hundreds of manuals, creating content, overseeing a website transformation and writing scripts for promotional videos. In addition, Maddy serves as a creative intern for Just Bikes, a start-up company in Arkansas focusing on becoming a popular community spot. Maddy was able to establish new brand standards, create a logo and even revamp the brand's entire social media presence. In the past, Maddy has served as a student writer for the MU Student Affairs Marketing and Communications team where she honed her AP Style skills.
When Maddy is not busy creating, writing or scheduling content, she loves to spend her time volunteering at Alex's Lemonade Stand where she helps raise funds for childhood cancer research. Maddy has been granted the opportunity to educate individuals about the specific hardships that childhood cancer brings to patients and their families by sharing the story of her cousin, who was diagnosed with neuroblastoma at two days old, while collecting donations during Alex's Midwest Lemonade Days. At Mizzou, Maddy is involved in the MU Honors College and AAF Mizzou while working toward a minor in business and film. Beyond all of Maddy's academic and philanthropic involvement, she also loves to geocaching! In the last four years, she has collected over 126 caches across 17 states and two countries.
Ryan Wilson
Copywriter
Ryan Wilson, our spunky Copywriter, has always had a voice of her own. From Mundelein, Illinois, a Chicago suburb, Ryan strives for excellence and shines through collaboration all while adhering to her strong work ethic. Ryan has gained multitudes of experience while taking in the world around her.
This past summer, Ryan worked at Edelman as a brand intern for General Mills. From drafting media lists, media audits, weekly new reports and leading creative brainstorms, Ryan was able to combine her naturally creative mind with more organizational skills all into one position. In addition, Ryan grew her love for all things advertising through the New York City internship program with VMLY&R. Working on the Dell account, Ryan presented to both the client and other industry professionals at the end of her two-week period in the Big Apple. Ryan found her true passion for copywriting through her internship with Upshot under the BLAC Internship program. Ryan's time spent at Upshot varied from being behind the scenes on production sets to writing social media copy for Lala Foods and Goliath Games. At Mizzou, Ryan worked as a social media intern at the Center of Academic Success and Excellence. There, Ryan was able to mix her passion for diversity and creativity by interviewing students on campus with the infamous mini mic to leading the department's overall content creation efforts.
Ryan served as Mizzou's National Association of Black Journalists committee chair for the last two years. In this position, Ryan helped plan out-of-state trips and events, which helped lead to Mizzou's NABJ chapter winning the National Student Chapter of the Year award! In her free time, Ryan volunteers at the local food pantry in Columbia, Missouri. One thing about Ryan is that her words impact everything she works on even though she only has one working vocal cord. Although Ryan's voice may be quiet, her words pack a punch.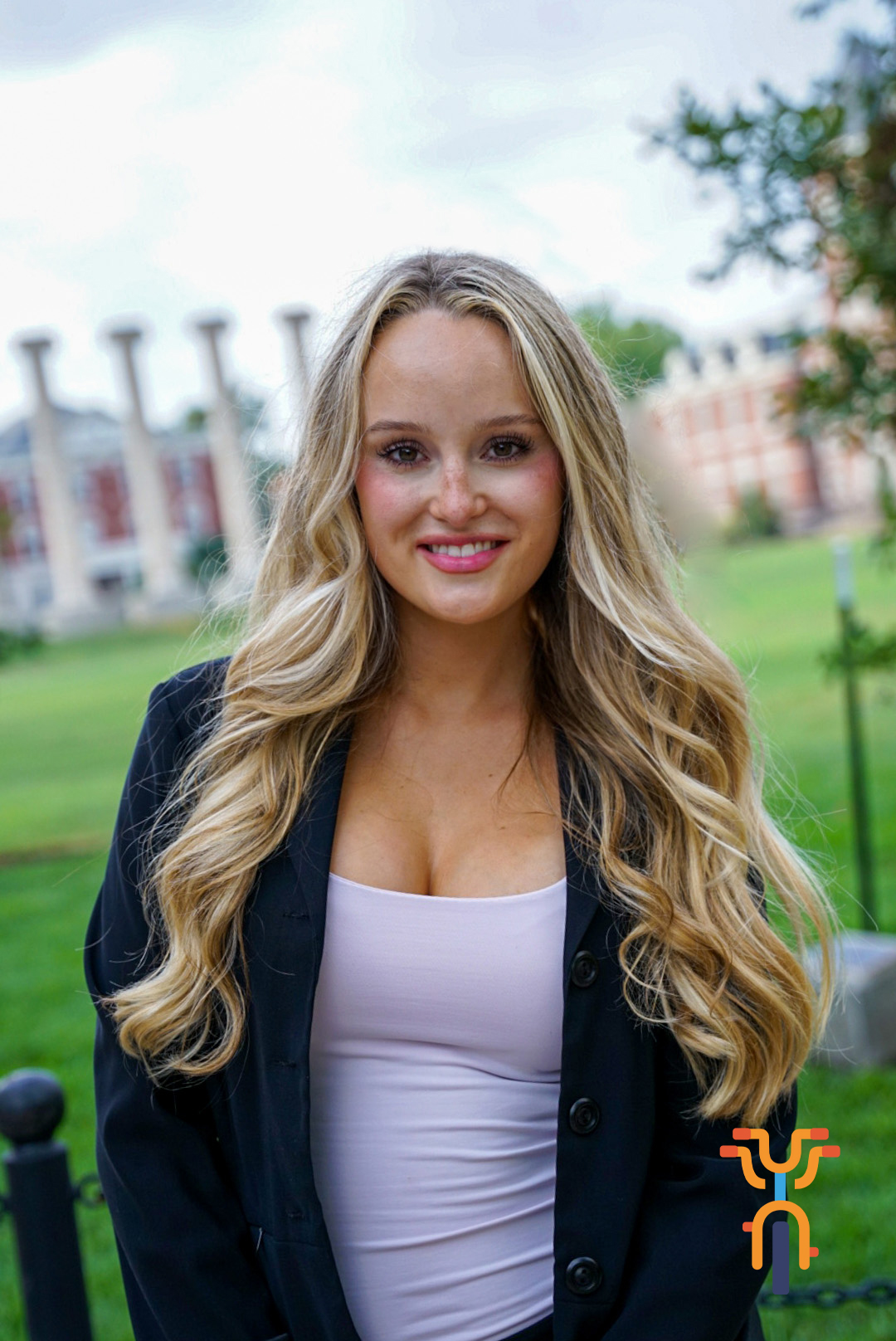 Tatum Starr
Video Producer
Tatum Starr is truly a star! It is literally in her name! From Kansas City, Missouri, Tatum brings fresh ideas and amusing visuals to Team Tandem as our Video Producer.
Tatum loves being behind the camera and will do anything she can to further develop her photography and videography skills. Tatum recently served as a photo and video intern at Burns and McDonnell. In this position, Tatum served as the assistant editor for video and photo projects that were part of ongoing campaigns. Additionally, Tatum worked as a videographer and photographer for By the Blade, a landscaping company. Through these internships, Tatum was able to travel to Houston to film multiple project sites alongside a team of other interns. Tatum further developed her confidence and creativity by working as a videographer for CruzX, a student-led athletic wear company. In addition to working for other companies, Tatum also does a variety of freelance work, which can be found on her photography and videography Instagram, @mythreeeyes. On the account, Tatum shows the world through her own point of view by including graduation photos, product shoots, candid moments with her friends and more!
Throughout her time at Mizzou, Tatum has been a dedicated member of Pi Beta Phi, Sustain Mizzou and Mizzou Entrepreneurs. Tatum's creativity spans much beyond what she can do with a camera in her hand. In fact, Tatum created her very own eyeshadow palette! By creating her own brand, DONTTOUCHMYFACE, almost two years ago, Tatum was able to create, photograph and brand the entire makeup brand from start to finish.
Sarah Tierney
Art Director
Our passionate Art Director Sarah Tierney is no stranger to the Adobe Creative Suite. Sarah balances both her artistic and leadership skills to guide Team Tandem's original and expressive creative developments.
Sarah was able to flex her creative muscles through her last internship with Socket, a fiber internet company based in Columbia, Missouri, as a marketing intern. Sarah worked on a variety of projects for the brand, including design and copy, work for print materials, digital advertisements and social media. Sarah grew a love for design and was even able to assist in the planning and executing of internal and external company events. Talk about a fun summer! When Sarah is not behind the computer creating and coming up with fun new designs for our team, she loves to participate in the local Doggy Day Out through the Central Missouri Humane Society with her roommates. Through the Doggy Day Out program, Sarah takes the dogs that are available for adoption to play, go for a walk and even get a pup cup at Starbucks. How sweet is that!
As a native Texan, Sarah has had to adjust to the brutal Missouri weather. However, Sarah has made up for it by traveling and exploring the world. Growing up, Sarah lived everywhere from California to Rhode Island and eventually settled in Texas. Sarah has learned to love the adventures of traveling throughout the many places she has called home.
Zoe Krause
Graphic Designer
Zoe Krause is the definition of a free spirit. As our Graphic Designer, Zoe is a whiz in all things creative design. From St. Louis, Zoe loves to bring her artistic vibe and strong work ethic to everything she does.
Zoe's past experiences have ranged from fashion boutiques to insurance companies all the way to Victoria's Secret. Currently, Zoe is a content creator for the Mizzou Career Center. Zoe uses her creative thinking as her magic weapon to create social media posts, brainstorm weekly themes and events as well as plan, edit and shoot every single piece of content for the department. Zoe recently served as the creative department intern for Innovated Holdings where she created detailed social media posts and Reels for the company. Additionally, Zoe worked as a Victoria's Secret PINK Campus team member as the community outreach coordinator. Within the role, Zoe was able to communicate with local businesses and student organizations to plan events and help lead creative photoshoots and content in collaboration with Victoria's Secret. Zoe also expanded her creativity skills through her internship with Jbier Boutique as a web, photography and videography intern where she edited videos, designed branded merchandise and edited product photos.
Zoe currently serves as the creative director for Matchbook Marketing Agency, a student-led creative agency. Within her role, Zoe manages and trains the creative leads for the client-facing teams, including Hot Box Cookies, MMGY Global, Thompson Foundation and more. When Zoe is not busy being the cool, creative mind that she is, she volunteers for the Missouri River Relief helping clean up around the woods. Zoe is a big fan of the outdoors and considers herself an avid hiker having hiked 19 different national parks and counting. Zoe's favorite national parks include Rocky Mountain, Zion and Bryce Canyon.